Outside a diversion safe looks like a piece of furniture. Camouflage role may perform anything, looking appropriate in the required area. A diversion safe does not have visible locks, what is its final advantage because a probable attacker will not find holes where he can take advantage of using many picks. And there are no visible external loops.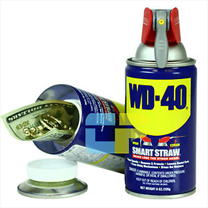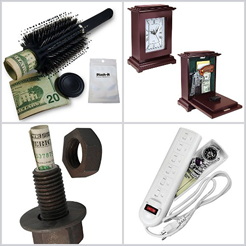 Diversion Safes specifications:
The complexity of the recognition;
Lack of traditional locks and keys;
High mechanical reliability;
A variety of locking;
The quick change of code;
A variety of electronic keys;
Multi-stage electronic and mechanical protection;
False tips.
Diversion Safes Construction: A double metal box with concreted sinuses. As a finishing coating, it is used as a polymer varnish, and may also be used for blacksmithing cover. A door of the diversion safe is a concreted prefabricated welded construction which provides a force to crack 0.03-1 MH. The interior is filled on request: possible additional shelves, holders for files and diskettes, etc.
Locking System: You may use several options. For example, an electronic lock, programmed for a specific combination of a set of numbers on a mobile phone or when you touch the conditional place pill touch-memorial or for presentation cards proximity to a certain point. In these cases, the secret mechanism operates reliably pressing the door of the safe to the cavity. Also, the product may be equipped with additional blocking lock – if it is closed, to pick the code is meaningless. Such a solution is used for the multiplayer operation because the control remains in the hands of one person.
Installation: Such safes whose area of concreting is huge, it is almost impossible to tear out walls. Therefore, they are enough simply to wall up. A distinctive feature of diversion safes is a complete and reliable masking of the safe location. Getting into the room, an outsider would never guess the place where your safe is. Diversion safes installation is carried out only in areas and partitions made of different building materials (brick, gas block, plasterboard systems foam block and so on).
The basis for diversion safes is strong, capable of carrying the load, vertical walls, multi decks, partitions and so on
Depending on the size of the opening, this type of boxes may require unique manufacturing and a reinforcing structure. Wall decorations, in which are mounted the diversion safes, are performed on the various decorative materials, such as wood, marble, sculpture, mosaics, and others. Specially designed diversion safe provides the clear fixing of the safe door and its unlimited service life. We make diversion safes of different formats according to the size you wish.
We also have in stock diversion safes of the standard frame sizes over 40 kinds for all types of wall decoration. At your request, we will place an order, help you with the choice, give you quality advice and deliver the diversion safe free. Also, we will provide assurances not only for the diversion safe but for the installation as well. Our diversion safes are of the European standard to ensure reliability and serviceability. Quality is in the first place for us. Gunsafery.com suggests other quality safes: Gun Cabinets & Deposit Safes.